I knew as soon as I started the corner. The wheels were slipping. I had no grip.
I. Stopped. Moving. Forward.
The only thing left was…to fall. And so, I braced for impact.
My left hip hit the dirt first, followed quickly by my upper body. Because I fell down the hill, the momentum carried my legs over my head, and my body continued to slide. I stopped once my back found a rock. Awesome.
My feet were still attached to the bike, which was now hovering precariously over my head. Having sold my mountain biking shoes and pedals last fall, I was using my road shoes. The cleats were tight, and I wasn't able to clip out in time to put my feet on the ground.
As I lay on my back, I couldn't help but smile. I was looking up at the most beautiful Colorado aspen grove. It had been an amazing week, and I didn't want to be anywhere else but where I was right at this moment. Well, ok…I could have been upright with my bike underneath me. Details.
For the last six days, I had hiked, biked and camped my way around my beautiful home mountains in Colorado. It had been eleven months since I lost my mom. I needed some soul medicine and for me, that meant mountains.
My old hiking buddy was feeling…well...old, so he stayed on the front range as I explored some new trails (I missed you dad!). Hiking solo was not new to me, however, a few friends did disapprove. But unless you have hiked (or camped) solo, it is an experience hard to explain.
There is something…magical about being alone in nature.
The typical daily "to do" list melts away and is replaced by fun activities such as:
Wake up with the sun
Smell the trees
Draw pictures in the stars
Avoid the bears
Don't trip (again)
Hiking alone is a moving meditation for me. I focus on breathing through my nose. I calm my thoughts. I think about all I am grateful for. I pray. And I feel like I am truly living in the moment.
As I struggled to wiggle my shoes out of the pedals, I heard my friends call back to see if I was still alive. "Yep! All good!" I answered. Why not? I would be as soon as I could detach myself from this oversized bike.
I had met up with two friends at the end of my trip to bike the mountains in Vail. I borrowed one of their bikes, which turned out to be three sizes too big. To make things more interesting, the derailleur cable was shredded. Literally. There were metal cables shooting in all directions. This meant I only had one gear. Out of twenty-seven. And it was a middle gear. That made the hills pretty damn near impossible. But I was determined to go for it. And it was going well. Until, I wound up on my back.
But as I rolled around on the ground (seriously…how tight were my cleats!?), I was proud. I had a split second to make a decision. Commit. Or stop. Anything in between would have definitely meant failure. But at least I had a chance if I went for it.
Imperfect gear or not, if you want something badly enough, you will make it happen.
This was not the first time I had…um…failed…on this trip. I had started in Steamboat where I hiked a trail recommended by my good friend. 11 miles. Two lakes. And endless views. She said it was "one of the best hikes in the world." Coming from a woman who used to lead hiking trips in Switzerland, this was a pretty serious statement.
After climbing a few hours, I reached the first lake. I was greeted by crystal clear water with a smoky blue depth. I ate my apple and nuts and thought they tasted so much better than Houston food. Which is ironic, as the apple I brought with me was from Houston. Mindset matters.
I left the lake to climb the ridge over the pass when I got distracted. As I descended down the ridge, I noticed a trail that went up to what appeared to be a peak on my right. "It's a false peak," I told myself. "It's false. Keep going down."
I continued down the backside of the ridge but kept looking back at the peak. My gut told me it was a false peak. But my head said "Puuulease Kristyn! Just a quick look? We can make it up and down in time! Pretty please!?"
No regrets, right?
I turned around. I hiked back up the ridge and looked at the peak. It was still early. I had water. And the clouds looked dry. As I scrambled up the side, my feet slid out from under me. The entire side of the mountain was a scree field of loose rocks. I tucked away my hiking poles and got down on all fours. I grabbed (what looked like) a solid rock, only to pull it straight out of the side of the mountain.
OK. New plan.
My hiking poles quickly turned into spears as I jabbed each one in the side of the mountain. Slowly but surely I made it to the top…
Of a false peak.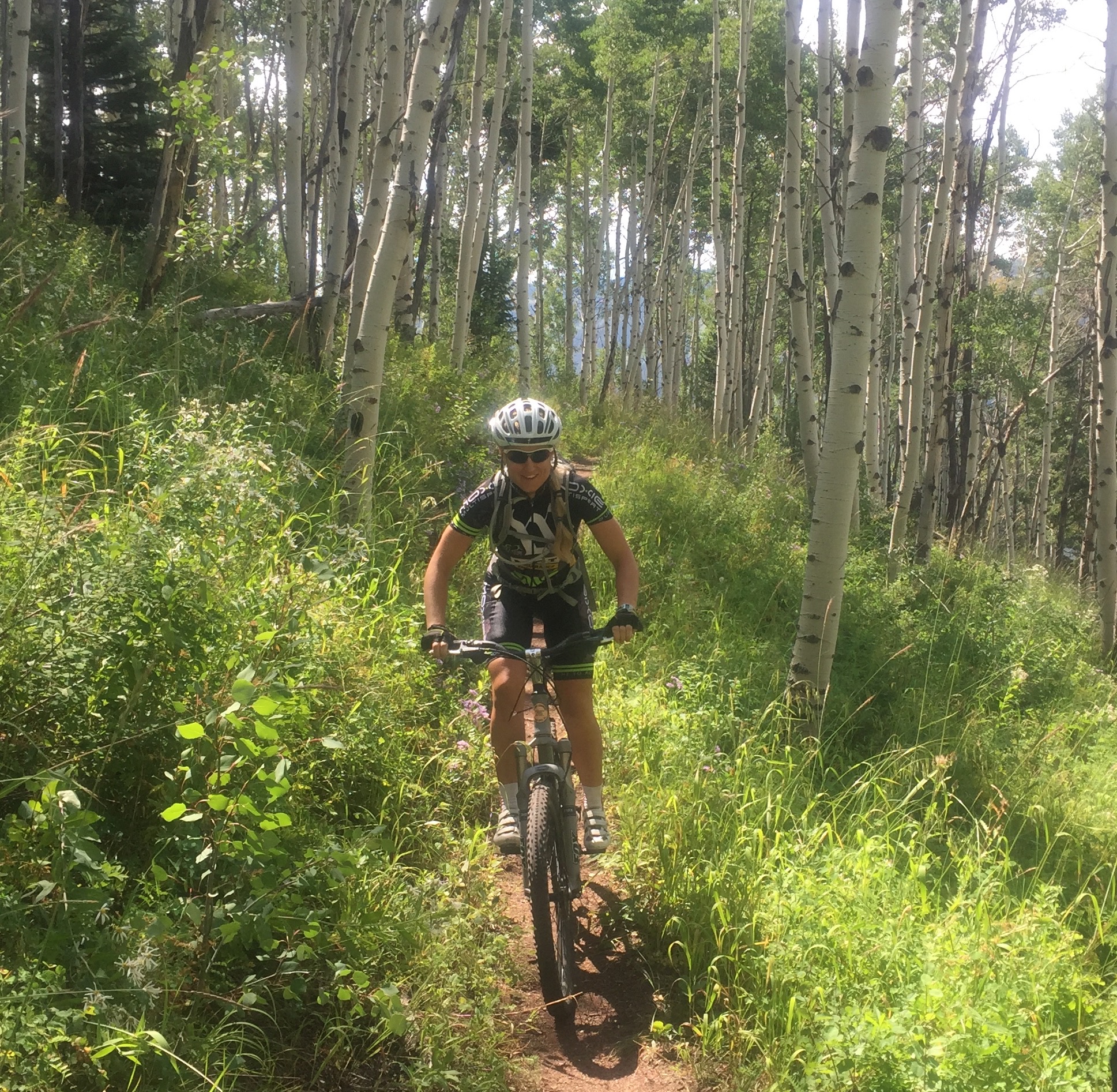 I never am. I am surrounded by love.
I definitely didn't have the supplies to add in an extra ridge hike and a few more peaks to reach the true summit, so I turned around and headed back down. I didn't get where I thought I wanted to go, but at least I had fun getting there.
Click.
FINALLY. With my right shoe free from my bike, I was able to unclip my left foot and scramble back up to the trail. I only had a few hours left, and I was going to cover as much ground as possible.
As I left Vail to drive to the airport, I thought about my "solo" trip. Are we really ever alone? Just like in life, most of the time, when we "go it alone" we are usually following in someone else's footsteps. We take a pre-existing a trail. We use an old map. We even may seek the help of a friendly stranger along the way.
We stand on the shoulders of giants. We grow with the encouragement of a trusted mentor. And when we fall down, which we will inevitably do, we know it's not the end of our path. It's not the end until we reach our destination. We commit. And only then do we realize that the destination existed in each delicate step along the way.
This trip was for my soul, but I wasn't solo. When I hiked, I had the navigation skills my dad taught me as a kid. When I cycled, I had the bikes my friends loaned me. When I drove, I used a car my friend let me borrow. And when I laughed, I could hear my mom's beautiful laughter right along side of me.
No. I wasn't alone. I never am. I am surrounded by love.
Where are you on your journey? Your journey in life? Your journey this year? Or even just your goals for today? Commit to each step you take. Have faith that even when you feel alone, you have the knowledge and support from those around you. And when you fall, for the love of God…wear the proper shoes!
Sending you love on your solo adventures,
Kristyn